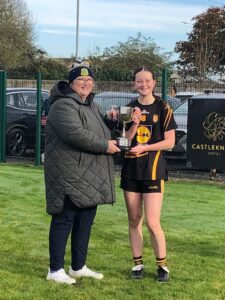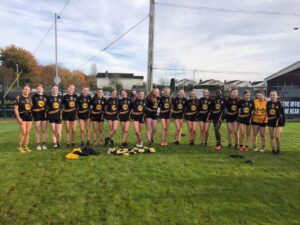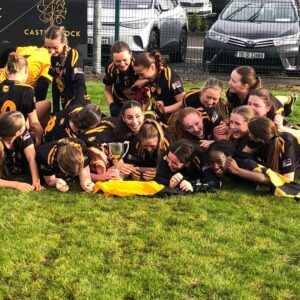 U16 Division 1 Final
Dunshaughlin Royal Gaels v Dunboyne
11th November 2023
Our Under 16 Division 1 team made the short trip to Dunboyne on a damp, foggy Saturday morning for their final.
With 6 wins from 7 in the round games they had overcome St Pats the previous week in the semi final to face old foes Dunboyne in the final.
Our girls started off with fire in their bellies and totally dominated the opposition, a few early points from Katelyn Robinson and Áine Mc Tigue settled them down.
A thundering goal from Tara Glennon saw them lead 1-5 to 0-01 after 25 minutes.
We went in to the second half 1.05 to 0-02 up.
Dunboyne started the 2nd half much better with two quick points reducing the deficit to 3 points but our girls responded well with some outstanding defending by Saoirse Walker Niamh Summerville and Aisling O'Connor. Clair Mc Carrick covered a huge amount of ground supporting backs and forwards when needed. Keeper, Caitlin Summerville pulled off a couple of great saves which kept Dunboyne at bay.
The midfield generals of Grace Summerville and Siún Hartigan covered lots of ground winning ball and pressing forward, ably assisted by Ronnique Kato and Georgia Muldoon who had solid performances in the half back line.
Olivia Quinn opened the scoring for the black and amber in the second half slotting over a lovely point. Tara and Olivia in half forward line made sure the forwards had plenty of ball going in to them to get the crucial scores.
A quickly taken free put Katelyn Robinson in the clear and she deftly lobbed the advancing keeper to put daylight between the teams.
Substitutes Katie Smith, Mia Summerville, Gillian Murray and Grace McGivern slotted seamless into the game ensuring the momentum kept going. Dunshaughlin got a few more points from play from Katelyn, Orlaith McEntee, Ellie Dervan and Tara which ensured the victory on a score line of 2-10 to 8pts in what was an outstanding display from all 19 girls.
Captain, Grace Summerville accepted the cup from Meath LGFA's Patricia Mead on behalf of a delighted team.
Dunshaughlin Royal Gaels Team: Caitlin Summerville, Niamh Summerville, Saoirse Walker,
Clair McCarick, Aisling O' Connor, Ronnique Kato,
Georgia Muldoon, Grace Summerville (c), Siún Hartigan, Olivia Quinn, Tara Glennon, Ellie Dervan, Katelyn Robinson, Áine Mc Tigue, Orlaith McEntee, Grace McGivern, Katie Smith, Gillian Murray, Mia Summerville
Mentors: Teresa Ennis, George Ennis, Laura Quinn & Daniel Quinn.
By dunshaughlinsecretarybng
Thu 16th Nov